---
Filter-Outlet is an online shop specialised in refrigerator water filters for Samsung, LG, Bosch, Whirlpool, GE, Daewoo, Maytag and many other brands of American style side-by-side refrigerators. We offer a wide range of fridge water filter cartridges at great prices.
---
Our Best Selling Refrigerator Water Filter Cartridges
---
DA29-00003F

Aqua-Pure Plus, Samsung, Microfilter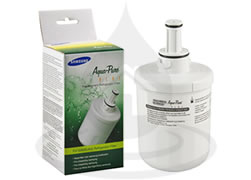 from 39,49 €
The New Samsung DA29-00003F Aqua-Pure Plus refrigerator water filter for Samsung side-by-side fridges. Replaces filter cartridges DA29-00003G, DA29-00003B, DA29-00003A,...
More Info >
4874960100

Beko, Cuno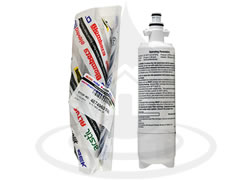 from 58,99 €
The Beko 4874960100 Water filter cartridge fits Beko, Grundig, Lamona, Küppersbusch & Bloomberg fridge freezer. This is genuine replacement water filter
More Info >
DA2010CB

Universal, Microfilter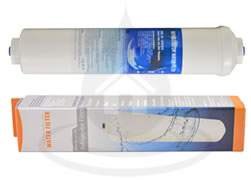 from 29,99 €
DA2010CB is an universal external refrigerator water filter. This fridge filter fits Samsung, LG, GE, Whirlpool, Frigidaire, Daewoo americain fridges. Replaces K32010CB, LG...
More Info >
---
5231JA2010B

(3890JC2990A), LG, Microfilter Ltd.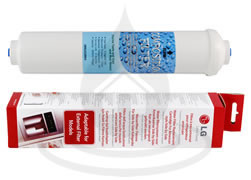 from 30,99 €
LG 5231JA2010B original external refrigerator water filter replaces the fridge filters LG 3650JD8050A, LG 5231JA2010C, LG 3890JC2990A, LG 5231JA2003B, LG 5231JA2012A, LG BL-9303
More Info >
---
Our website is designed to help you quickly find what you're looking for. You can search by refrigerator filter manufacturer, filter model number or by fridge model number. All water filter specifications and filtration performance including NSF certification are detailed on the final product page. In addition, we provide simple instructions for how to install a fridge water filter in American style side-by-side refrigerator.
---
The product images shown correspond to the refrigerator water filter you are buying. You can easily distinguish between original and replacement (compatible) fridge water filters as it is well indicated on our site. Every fridge water filter we sell is new and sealed in the manufacturer's original packaging.
We aim to keep every filter in-stock ready for immediate dispatch.

---